And if Your Friends are Serious Poker Junkies

Place this Event in with the regular Adventure cards.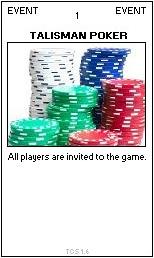 1. Each player places in the pot a Follower, Magic Object, Object, Gold, or Spell chosen by the player to his left. If he has none of these ten he wagers a point of Strength or Craft. If he is at his starting amount of Strength and Craft then he wagers 1 Life.
2. Each player keeps his current Action Cards and draws until he has six of the them. He then dicards as many cards as he wishes and draws enough cards to put himself back up to six cards.
3. The winner is the player with the best hand. Order of Best Hands: High Card, Pair, Two Pair, Three of a Kind, Three Pair, Two Three of a Kinds, Straight (all six cards), 4 of a Kind, Full Mansion (4 of a kind plus a pair), 5 of a Kind, 6 of a Kind.
4. The winner then collects everything wagered - even if it is something he normally cannot possess (Followers that don't like your Alignment, Spells for insufficient Craft, etc) and all players discard their Action cards.